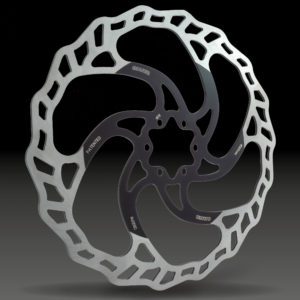 Brake discs
Laser-cut from high-carbon stainless steel, they are a direct application of top-competition technology made available to all users. They replace the original discs without the need for adaptation or manipulation. Made in Spain, all Galfer brake discs have anti-corrosion treatment, are lighter than most discs on the market and do not emit noise or vibration.
Classic Disc Wave®:
• Sturdiness.
• Aggressive bite.
• Superior pad cleaning capacity.
• Ideal for mud and wet conditions.
Disc Shark®:
• Greater braking power under intense heat conditions.
• Thermal stability, less fatigue.
• Lower operating temperature.
• Improved pad durability.
Road/Gravel:
• Lightness.
• High modularity.
• Good heat dissipation.
• Recommended for Gravel and Road.
Bike Trial:
• Exclusively for use in trial.
• Sturdiness in both turning directions.
• Achieves the best bite with Galfer sintered pads.