Austrian rider Andreas Kolb has achieved his first victory in a Men's Elite Downhill World Cup with his Atherton bike equipped with Galfer Bike brake products.
It was a great weekend for Galfer representatives at the Leogang World Cup (Austria), where they secured 2 victories, 3 podium finishes, and 4 top-ten placements across the three disciplines contested.
In the Downhill specialty, local athlete Andreas Kolb (Continental Atherton) claimed an incredible victory, setting the fastest time ahead of all the favorites in the category. Kolb was the only participant to break the 3-minute mark (02:59:335) throughout the entire weekend, accomplishing this feat in the final run and earning his well-deserved first victory in the UCI Elite DH World Cup after 9 years as a professional. Andreas Kolb utilizes the "Disc Shark®" brake discs along with Galfer Pro G1554T brake pads to compete with his Atherton bike. As a result, Kolb is now in fourth place in the overall standings with 476 points after two races.
On another note, in the Women's Elite category, Rachel Atherton, Andreas' teammate on the Continental-Atherton team, secured a remarkable 3rd place on the podium. After her victory in the opening race, Rachel continues to prove that her return to competition was not a mistake and currently holds the second position in the women's general classification with 616 points.
Finally, young rider Dani Castellanos (Planet MTB) achieved his first podium finish (3rd) in the Men's Junior category at a UCI DH World Cup event.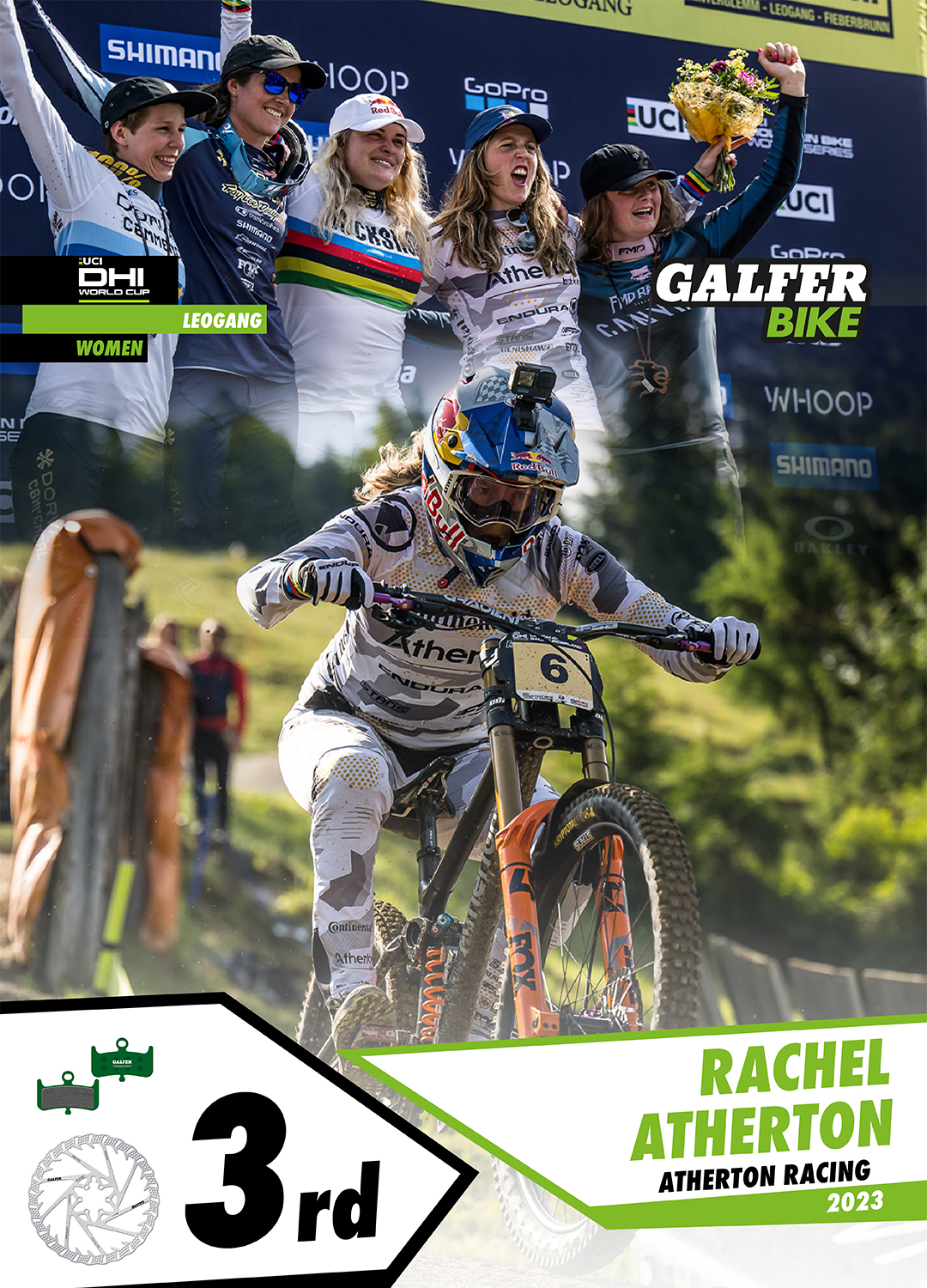 In the Enduro discipline, there was a phenomenal victory for Florencia Espiñeira and her Orbea Wild in the E-EDR (electric bikes) women's category. "Flo" achieved a lead of over 30 seconds ahead of the second-place rider. Espiñeira and the entire Orbea Enduro Team also use the "Disc Shark®" brake discs, combined with the G1652 brake pads, specially designed for E-Bikes. In the men's E-EDR category, Portuguese rider Tiago Ladeira (Miranda Factory Team) secured a great podium finish (3rd). French rider Floran Nicolai (WeRide Fulgur) claimed the 10th position.
In the traditional Enduro (EDR) category, it is worth highlighting the top-ten placement achieved by Belgian rider Martin Maes (Orbea Enduro Team), finishing 9th in the Men's Elite category. In the Women's Elite category, Melanie Pugin (WeRide Fulgur) secured a 6th-place finish, while Barbora Vojta (Challenge One) finished 8th.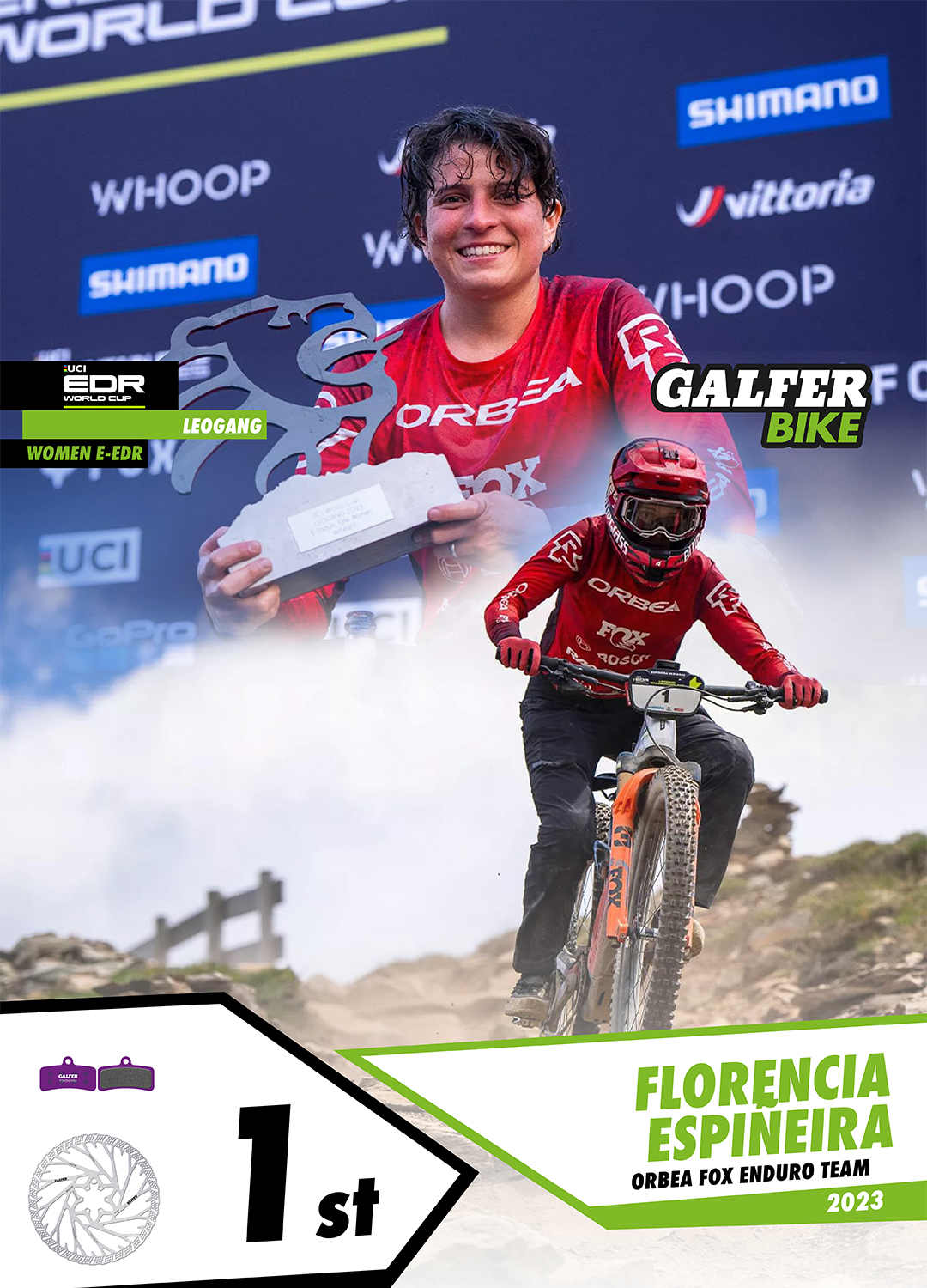 The upcoming rounds of the UCI MTB World Cup will take place in Val di Fassa and Val di Sole (Italy) from June 24th to 25th and from June 29th to July 2nd, respectively. The first event will feature the Enduro discipline, while the second event will include Cross-Country and Downhill.