Toni Bou (Repsol Honda Team) was crowned champion with a total of 191 points and 7 victories, leading his closest rival, Jaime Busto, by 51 points. In addition, Emma Bristow (Women's category) and Sondre Haga (Trial2) also won their respective world titles.
Ponte di Legno hosted the TrialGP World Championship this weekend for the first time ever, although it is already a regular location in the Italian competition. The race comprised 12 mostly rocky sections over steep, wooded hillside, with two laps of a 7.5 km course. According to Toni and the team they were quite nervous, even though it wasn't the first time he was competing for the world title. Just the thought that the title was in the balance led Toni to make two serious mistakes, as a result of which he failed to secure the first victory on the first day. In the second round, with some modifications to the track by the organisers, which reduced the difficulty and pressure on Bou, he managed to confidently beat all his opponents. He closes the season with 7 victories, 3 second places and a new TrialGP world crown, his 16th in a row. He has now won 32 consecutive world titles across the two Trial competition disciplines.
Matteo Grattarola, Italian rider with the Beta Factory Trial Team, managed to beat Bou on the first day, although the second day didn't play out in his favour and he ended in second position. After this weekend, he is only 5 points away from ending the TrialGP 2022 season on the podium.
In the Women's category, Emma Bristow was looking to secure the World Championship, and thanks to a double victory positioned herself 6 points ahead of her rival, Berta Abellán (Scorpa), who has only tasted victory twice this season, unlike Emma who has achieved six. As a result, Emma Bristow managed to retake the title of Women's TrialGP World Champion for the eighth time in her sporting career.
In the Trial2 category, Sondre Haga (Beta) won the world title after a steady and regular season, with a victory in France and podium positions in all the rest of his races.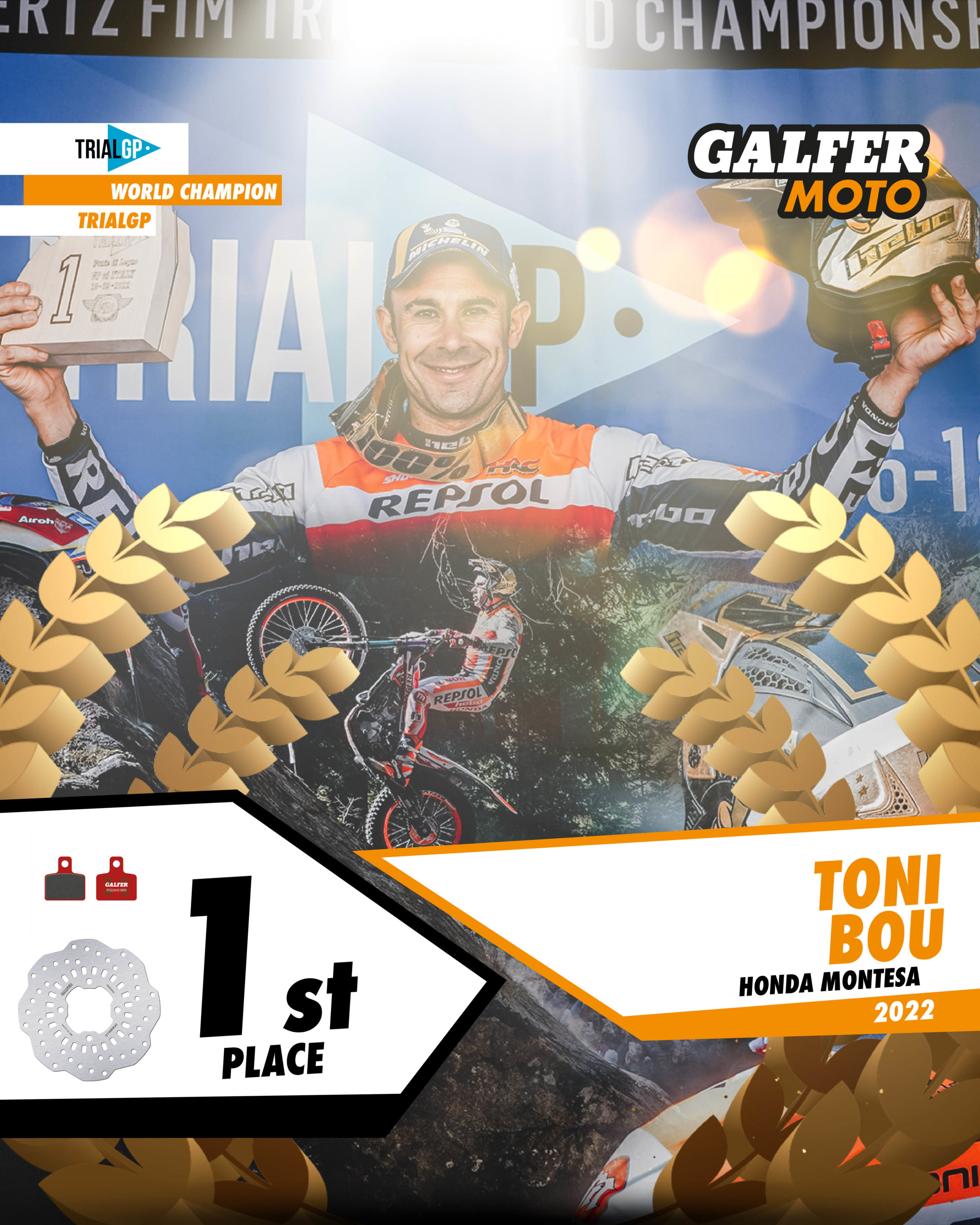 Once again this year, Galfer riders have shown that they are fit for the competition and stand one step ahead of their rivals with the help of Galfer products—both discs and pads—which have been developed specifically for this discipline.