The young Boé Motorsport rider took second place in the Moto3 race in his second Grand Prix of the World Championship.
David Muñoz (#44) surprised everyone with an incredible comeback and the first World Championship podium of his life in his second Moto3 race. At just 16 years of age, Muñoz even managed to lead the race at one point, despite starting from 20th position on the grid. This confirms his potential and the great future that lies ahead of him. Undoubtedly, David thrilled both his team and all the fans who filled the stands of the Circuit de Barcelona-Catalunya. Just 10 thousandths of a second behind Muñoz came Japanese rider Tatsuki Suzuki (#24) from the Leopard Racing team, who fought in the leading group throughout the entire race.
Two other Spanish riders from the Prüstel GP team secured top ten finishes, with Carlos Tatay (#99) 6th and Xavi Artigas (#43) 10th. Bad luck for Dennis Foggia (#7), who started from pole position, but suffered a broken chain which forced him to retire.
All of them use the Galfer Floatech® brake discs, which are bitten by the Racing sintered brake pads.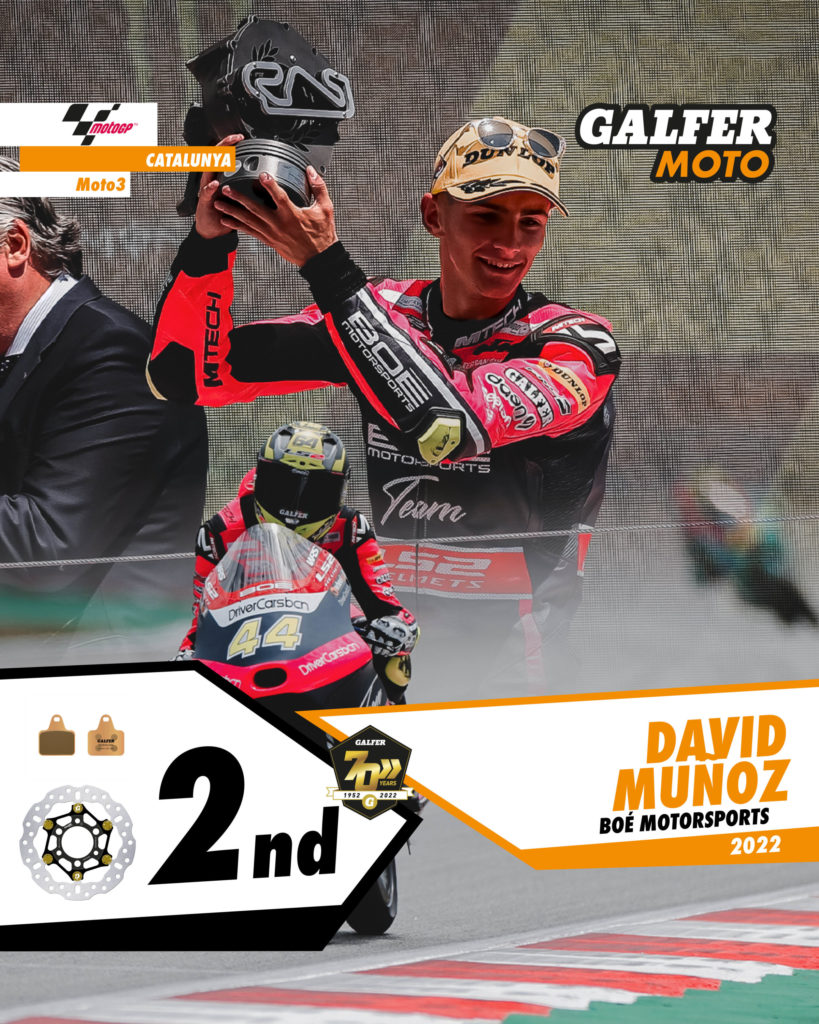 In the Moto2 class, Bo Bendsneyder (#64) only just managed to score on Sunday, finishing in thirteenth place. Alex Toledo crashed during the first laps of the race and Piotr Biesiekirski (#74) finished twenty-third.
The next Grand Prix will be held at the Sachsenring (Germany) on 16 June.