Five Galfer riders finished the Moto3 race at the Italian GP in the top ten: Tatsuki Suzuki (Leopard Racing) came 3rd, Andrea Migno (Snipers Team) came 4th, Ryusei Yamanaka (MT Helmets-MSI) came 5th, Elia Bartolini (QJMotor-Avintia) came 8th and Matteo Bertelle (QJMotor-Avintia) came 9th.
Outstanding performances were delivered by Japanese riders Tatsuki Suzuki (#24) and Ryusei Yamanaka (#6), who achieved their best results of the season in Moto3. Suzuki took third place on the podium after riding in the leading group throughout the race. Following him was local rider Andrea Migno (#16) on his HRC Honda equipped with Galfer Racing Floatech® brake discs. Then came Ryusei Yamanaka, who achieved the best result of his racing career to date.
The riders with the QJMotor-Avintia team also achieved their best results of the season: Elia Bartolini (#23) finished in eighth position and Matteo Bertelle (#18) crossed the finish line in ninth position, just three thousandths of a second behind his teammate. Both drivers scored important championship points.
Meanwhile, Italian rider Dennis Foggia (Leopard Racing) suffered a crash halfway through the race and Brazilian rider Diogo Moreira (MT Helmets-MSI) fell on the last bend while fighting for the top positions.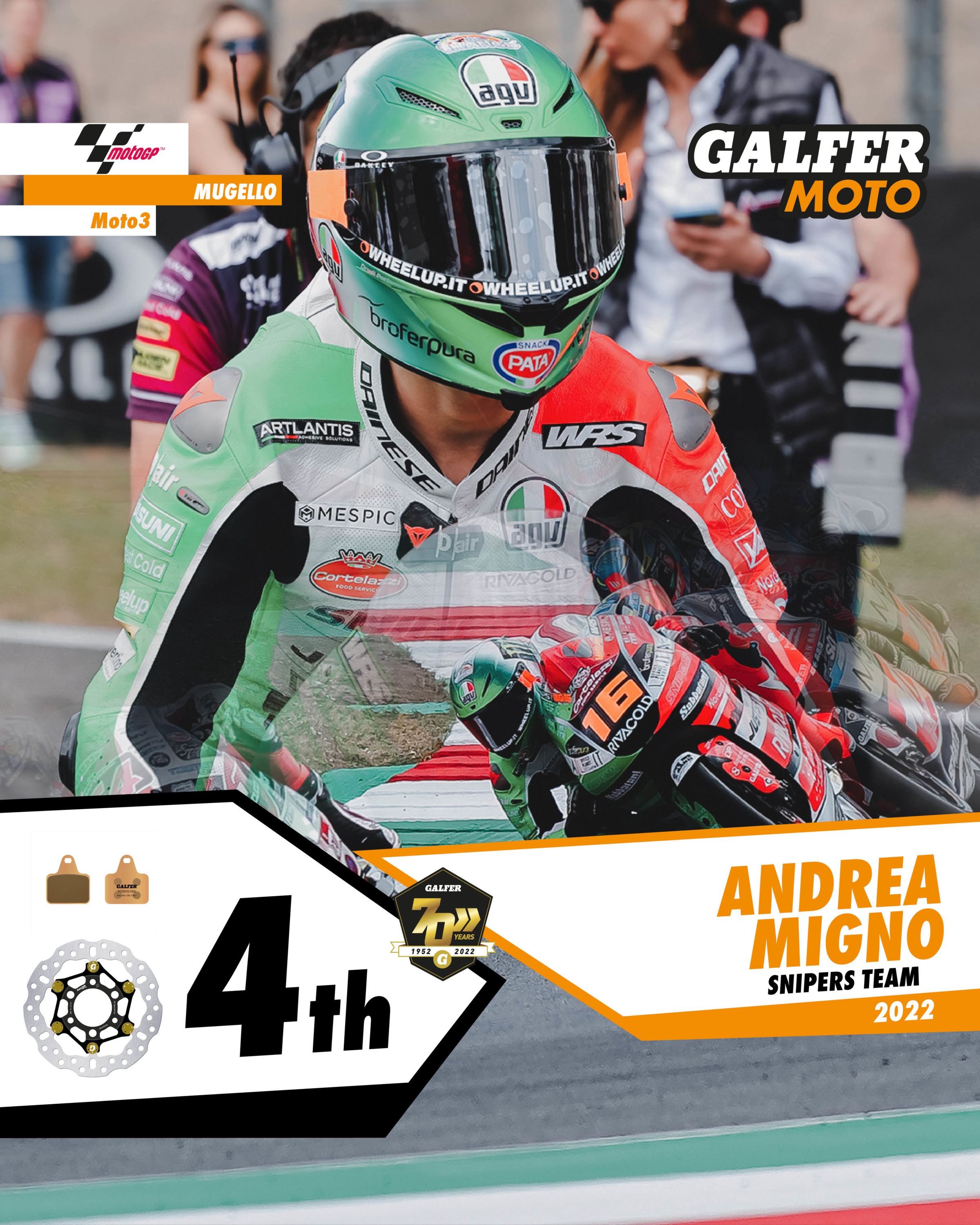 In the Moto2 class, Bo Bendsneyder (#64) made an excellent comeback during the race to cross the finish line in 11th position. His teammate, Spaniard Gabriel Rodrigo, decided not to take part in the race after the warm-up session, with pain preventing him from riding his Kalex.
The next round of the world speed championship will be held at the Barcelona-Catalunya circuit, just 300 metres from the Galfer plant, next weekend from 3 to 5 June.